On-page SEO and Off-page SEO are part of Search Engine Optimization for optimizing the website. And it's content for search engines and users. On-page ranking factors can really affect your page's ranking. And it can take the rank upside down if optimized properly. Some on-page factors that are quite important for search engine rankings are. Optimizing URLs title tags, internal links, and content. These SEO practices can improve website ranking drastically.
Driving organic traffic requires optimizing various factors that search engines consider important. Such as on-site, off-site, and technical SEO. Over time, it is observed that people are now doing on-page practices along with off-page SEO. Yet, people used to consider off-page factors only in previous times. Such as backlinks building and other elements.
Smart SEO practitioners understand the concept of off and on-page optimization. It is a fact that on-page SEO techniques need to be prioritized. Also, having proper knowledge of on-page SEO is important to ensure that your page's ranking is improving. The basic thinking is, on-page SEO is just putting keywords here and there. It is not like this; yes, we need to put keywords properly, and the placement of keywords matters. But on-page SEO is more than that. And an important factor to index your website on Google and other alternative search engines.
It is quite easy, and you can control and optimize or writing content as per your requirements. The best part is you don't need to have any technical knowledge of on-page SEO. So, here we will discuss all important aspects of on-page SEO, such as what is On-page SEO. Why is on-page SEO important? And many others…
What is On-Page SEO?
On-page SEO is improving and optimizing your blog for SEO to rank up your page. On-page SEO involves various things. And it is not just writing high-quality, valuable content. It involves optimizing headlines such as HTML tags (title, meta, and header) and image alt tags.
It also helps in improving the website's authoritativeness and trustworthiness. On-page SEO can be said to be the best way to fetch organic traffic. And ultimately improve your website's ranking in the first search results of Google.
Why is On-Page SEO Important?
Usually, people focus more on off-page SEO factors, but an on-page SEO checklist is as crucial as an off-page. Or we can say it is more important. The old tactics of on-page SEO still work to bring out the best results. Google is smart, and we have to write SEO-friendly content to follow all guidelines. This will help drive traffic and build the authority of the website.
It helps the search engine understand the website's content. And helps identify whether the content is relevant to the user. Google has designed its algorithm to focus on various factors before showing the result. Factors like relevance and semantics in search engine result pages (SERPs).
So, we need to design and optimize your content. so that Google can understand and fetch it quickly. This will help Google to search quickly and show our pages on top.
The on-page development is important to ensure that your website is visible to users on your web pages (i.e., text, images, video, or audio). You need to keep everything updated with search engines (i.e. HTML tags, structured data). And should be well-optimized according to the latest best practices.
Guide for On-Page SEO
Here you will get complete knowledge about on-page SEO factors. And understand it one by one through on page SEO tutorial.
1. Basics
Basic SEO involves determining whether your content is relevant or not based on the user's query. Google looks for the keywords searched by the user and matches them with your content. Whatever the user enters in the search panel of Google, gets broken into keywords.
Google looks for the most relevant search results. For example, if your page has information about shoes and you don't mention the toe type. Google will look for the same information on other pages and show that to the user. It is basically what Google finds relevant and will be shown to the user.
Without relevancy, it is quite hard to rank your page and increase organic traffic. This doesn't mean that keyword is the king; it is undoubtedly important. But strategically and not stuffing keywords bluntly is essential.
For example, when you search for a competitive keyword. Such as 'Types of the toe,' you will notice the top search result will have the exact keyword in their title.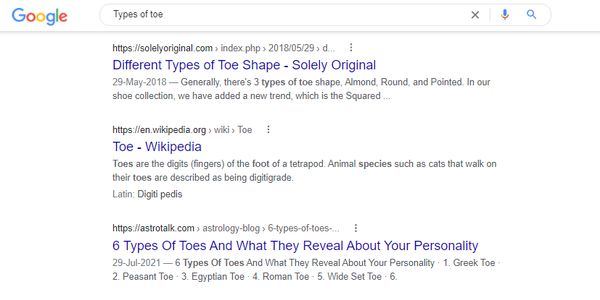 So, it would be best if you worked on various things to optimize content, such as:
User experience
Bounce Rate
Dwell Time
Search Intent
Page loading speed
Click-through-rate
All these factors need to be optimized to bring your content searches.
2. SEO Optimization of Content
To improve your website's authority, we need to do keyword optimization of every page of domain name to make a good website. Now we know that on-page SEO matters a lot, so we need to optimize content. Now, we need to work and understand how to use keywords.
To target the audience, you need to use the target keywords within the first 1000 words of the content. It is an old tactic but still works perfectly and can make a difference in the ranking of your content. The first thing is to use the main keyword in your article's first 100-150 words. If the target keyword is 'on-page SEO,' then it should be in the content's first 100 to 150 words.
H1 Tag
Title tags are also important and play an important role in optimizing the content. The H1 tag is like a mini title tag. As per Google, using the H1 tag helps understand the structure of the page. And directly affects the page's ranking.
Most platforms like WordPress and others automatically add the H1 tag in the title of your post. That will help in structuring the content. But this is not always the case, and it is needed that you check your site's code and ensure that title is wrapped in an H1. Also, make sure that your keyword is inside of that H1 tag.
H2 Tag
H2 tag, including the target keyword in one of the subheadings, is quite important. Put the keyword in the subheading and then wrap the subheading into the H2 tag. It will not make your page rocket and take ranking up, but it can do something.
Keyword frequency is also an important factor that needs to be kept in mind. So, keyword frequency means how many times your keyword appears in your content.
Google says using the same keyword many times won't help. But, SEO pros say that it works. It is observed that if a page mentions the keyword ten or more ten times. Google is more likely to fetch answers from that page's topic.
But, you need to be clear that it is not all about the stuffing of keywords. It is not like stuffing keywords 10-15 times in content rigorously. You need to put keywords strategically where they make sense. Mentioning your target keyword a few times will confirm Google about the information given on the page.
Using outbound links:
You must link other related pages, which will help Google figure out your page's topic. Using external links is one of the best ways of doing this. Also, it simply shows that the page is a hub of quality info, which can be helpful for the user. It is a proven fact, and it also helps build the authority of your web page. It is always better to provide as much information as possible.
Optimize URLs for SEO:
We usually forget about the URL of our page; we can say it is one of the most underrated parts of your on-page SEO. URLs in the mobile and desktop SERPs are now above the title tag. So, there are simple things that you can follow while forming the URL of your page:
Make your URLs short
Include a keyword in every URL
These are two things that you need to follow to make an SEO-friendly URL. That will surely help in improving traffic.
3. Optimize Title and Description Tags
This section will involve the learning of optimization of titles and meta descriptions for SEO. It is a known fact that title tags still help a lot in improving rankings. So, they need to be optimized.
So, it would be better to learn how to write a description and title tag. That can drive traffic to your page. The same goes with description; it needs to be designed to easily be understood by Google. And ultimately help searchers to figure out which result to click on.
The title tag is one of the most critical on-page SEO factors that need to be considered first. You need to understand that title tags and description gives a view of the page to users. It would be better to put the keyword at the beginning of the title tag; the more weight it has with search engines. The more chance you have to get a better ranking. Now, another thing is that placing keywords, in the beginning is not always necessary.
It is always better to use modifiers such as "best," "guide," "checklist," "fast," and "review". It can surely help improve ranking when used with long-tail versions of your target keyword.
Using Meta Description: Using keyword-rich meta descriptions will help Google know about the keywords. This will also help searchers understand the content and are more likely to click on the link to see your page.
It is better to write your meta description. And it is because a good meta description helps your content stand out. Include your target keyword in the meta and also in the description.
4. Writing
Before publishing the content, you need to ensure that keywords. And other things are correctly used on your page. This is one of the most important steps; writing SEO content is more important than anything. You need to provide quality content to your audience while including keywords that will help drive traffic to your page. And also choose the best SEO keywords to optimize your website. 
To rank your content, it needs to be:
Unique
Super valuable
Optimized for search intent
Writing unique content is essential. You need to provide something different from others and have more value. It would be best if you had a new strategy to improve the content. Analyze competitors and then style your form. Include all required information and everything that can value your audience. Make a list of things you want to put in your keywords. Keep your writing crisp, add details, and write updated information. And your content should be engaging.
The language of your content is also a big thing that needs to be considered. The writing needs to be simple and formal so that anyone can understand it. If you write your article using complex words, it can make people go away from your post. Keep the language friendly, and write as per your target audience. Unique, valuable, engaging content can get your page to the first page of Google.
Another important thing is the intent of your content, and it should be the same as what the searcher wants. If the intent is something and it shows something else, your page goes to the third or fourth page of Google. And never never use duplicate content.
5. Optimize for CTR
The click-through rate is very important, and here are the reasons. CTR is probably a Google ranking factor. And another reason is increasing your CTR can help fetch more traffic to your site. For example, you can use question title tags. It is observed that question-based title tags have an above-average CTR.
Also, look for your missing meta; if found. Then fill your meta description with meta description. The chances of improving rank are high.
The last thing with CTR is to put some emotional titles. Because it is observed that emotional titles get more clicks than average titles. That doesn't have a strong emotional sentiment.
6. Some Advanced Tips
Follow all these best tips given above and then follow some advanced tips. These advanced tips can help in improving page ranking and authority.
Use original image
Internal linking
Write comprehensively
Page speed
Mobile friendly
Image optimization
These are some common but vital points that need to be considered while completing your post. All these combined can improve the ranking and authority of your page. You can also use the EAT framework for on-page SEO of your content. That means Expertise, Authoritativeness, and Trustworthiness. And also use long-tail keywords in SEO to optimize web pages.
The fundamental thing that a content creator needs to understand is that the relationship is simple. Google considers high-quality content and what appears in the search results.
A Web Page Must:
Include subject in the title tag
Include subject in URL (Slug)
Add subject in the image alt text
Specify subject multiple times throughout text content
Provide valuable and unique content
Interlink to related pages
Link back to its subcategory relatable page
Link back to its pillar page or homepage
Google can rank your page in hours, days, weeks, or months; it depends on various factors. The on-page SEO is responsible for engaging users, and it is worthy of putting effort into it. On-page and off-page SEO are vital for your page's ranking. So consider the importance of both techniques equally. Follow these tactics and tips to get your page ranking up and build content authority.
Related Topics