Do you know that WordPress has its Elementor themes and templates?
It is one of the most reliable WordPress plugins available for WordPress-powered websites. With the help of the Elementor theme builder, a user can handle, modify, or make a good website. It allows users to handle Elementor templates as well as website end templates. But, you will have to update from the free version to the premium one.
If you have some knowledge about the website-making process. You know that pages like headers, and footers. Posts are compulsory to run a website.
The user can make a design based on their choice with its drag and drop feature from Best Themes for Elementor. You need to pick a section and move to a place where you want.
What do you know about Elementor Page Builder?
Elementor is one of the most remarkable page builders available on the market. It helps users to create pages instantly, and you do not need to enable the WordPress block editor.
This theme builder allows users to modify any portion of the website or blog. And they can edit it whenever they want. Not all theme builders allow you to edit all sections of the website. There are more than seventy templates with proper text, icons, images, testimonials, or maps.
If you want to make an online e-commerce store. Then the Elementor theme builder provides all kinds of support and functions to make it possible. If you like to integrate your website with third-party services. Like email, marketing tools, and analytics, Elementor Builder welcomes it.
To make a website in rocket mode. You can choose any pre-made template and later edit it according to your requirements.
What are the best Elementor Themes and Templates?
Several free and premium WordPress user-friendly themes are compatible with both versions (free and paid) of Elementor. And if your website is using a theme already. In that case, you can use Elementor to make the necessary changes on the page.
Let's see the famous Elementor templates and themes that are compatible with it.
Before using Elementor, you must have a domain name and a working Web Hosting plan.
OceanWP is famous among WordPress users. It has several template options to make website setup easy. You can use its 1-click demo content feature. Once you click on it, the theme will show a demo website.
If you are worried about its responsiveness, then chill. Because OceanWP is completely responsive, and it appears real on all devices.
If you are looking for a stylish and functional WordPress theme. Then Atmosphere Pro is one of the best options for your website. You can customize your website because it's fully compatible with the drag-and-drop feature of Elementor. It has a clickable homepage that allows users to add content and images to the site.
It allows its users to modify their headers and custom pages. And to make an online e-commerce website in the minimum time. You can choose WooCommerce plugins (Because Atmosphere Pro works fine with them).
If you use WP Engine hosting, they provide more than 35 premium Studio Press themes at no cost.
It is one of the most reliable themes for creating multilingual websites. Hestia is a single-page WordPress theme. It works fine with Elementor.
There are lots of features included with the Hestia, and you will unlock them yourself.
Astra theme does not need any introduction today. Because it has earned a reputation, trust, and popularity in the market because of its products. You can use the Astra theme and the Elementor builder to create a new website. And unlike other builders, you can make changes to any section of the website.
There are so many starter sites and pre-made templates that users can use at any time. If you are looking for a fast-loading and responsive website, Astra must be a better option for you.
It is mentioned on wordpress.org that the Page Builder framework is superfast. (it will not be more than 50 kb in the front end). Although it is new to the customers, they have offered stable and genuine updates to the users.
You can create any category website with the help of Elementor. Like a portfolio website, an agency, blogging, a WooCommerce online shop, and so many more.
The Page Builder framework is extendable and flexible, which is why developers love to use it.
Even a non-technical person can manage their website with the help of the Elementor website builder.
What kind of business website are you looking to create? Because Customify is an all-rounder. It is a lightweight, fast-loaded, and SEO-friendly WordPress Theme for Business. You can make a shop, a business agency, a corporate portfolio, an education portal, a university portal, a consulting firm, a restaurant, and a medical clinic.
You will find that Customify is compatible with all WordPress plugins. Including major ones like bbPress, WooCommerce, BuddyPress, OrbitFox, Yoast, etc.
Users have the command to change or set the theme colors, background, font style, and size. And the navigation system of the website. So, if you have not decided yet, choose to Customize over others.
To know more about Customify you can go to its official site.
There are more than 3 million users of the Neve theme, and it has almost a 5-star rating on WordPress.org.
If you want to start a blog, a small business, a firm, an e-commerce store, or an agency website, the Neve theme is a good choice. It takes the minimum time to load because of its smaller file size and super-fast weight. And the complete website displays perfectly on any device.
Elementor plays a vital role in the Neve theme as you can create a website or use an existing site to make any changes.
If you are new to the website making process. Then Neve is the finest option for your website.
Like other themes, Phlox needs less time to load on any device. It is lightweight and easy to modify. You can create businesses, portfolios, blogs, agencies, news & magazines, restaurant travel sites, and online shops.
There are a bunch of developers. Who keeps their eyes on every aspect of the theme? It is free of charge, and collaboration with Elementor makes it powerful. It has a one-click demo content feature to check if the website is looking fine or not.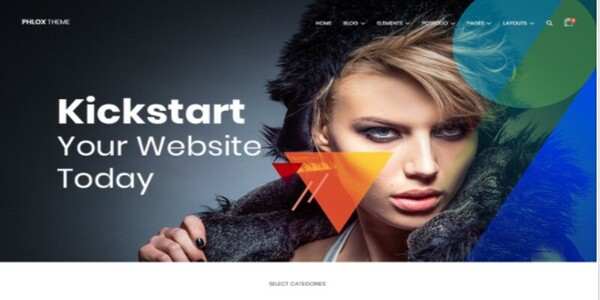 So, you can come to create a blog site.
If you want to make a custom landing page for music or band companies. Alec is the best option for your website. You can use the drag and drop feature of the Elementor page builder. And you can set a background image for the website.
It is a superfast, SEO-friendly, and responsive theme; a non-technical person can use it too.
Related Topics