Are you planning to launch an online e-commerce store? And want to compare Shopify vs WooCommerce for choosing best ones. If this is the case, you should get started as soon as possible because competition is increasing over time. There are so many people from around the world executing their plans. That's why if you are thinking of doing so, make sure it is not too late.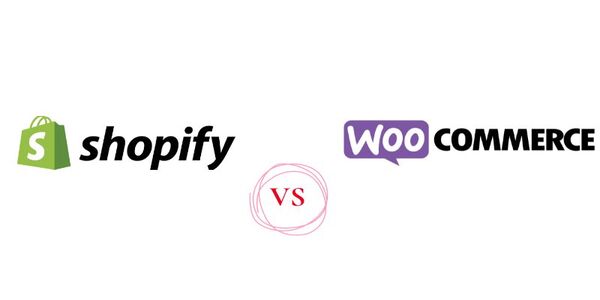 What are the Main Features You Should Check Before Selecting the Best E-commerce Platform for You?
How much do they charge? Does it mean they have better features? And are they effective in the price?
Is it easy to use or not?
Are our payment methods secure, safe, and customer-friendly?
Do they offer add-on comparisons?
Do they have effective dropshipping?
Your e-commerce platform should be measuring the growth of your business.
Do they provide the best customer service to the users or not?
There are two Leading Players in Online E-commerce Website Setup – Shopify or WooCommerce
With this article, we will take care of every aspect of the Shopify and WooCommerce platforms. And we will suggest you check some points before choosing a platform between them.
What is Shopify?
If you are a frequent internet user, then you must have seen Shopify somewhere. So, let's know more about it –
Shopify is one of the leading e-commerce platforms where you can create your online store. It is located in Ottawa, Canada, and was founded in 2006. Anybody can use Shopify to set up an online store and start selling their products. One more feature is that users can sell their products in person with the Shopify point of sale.
How did Shopify Start?
There is an interesting story behind the start of Shopify. In the beginning, the founder of Shopify, Tobi, wanted to snowboard online. But later, he realized that he needed a customer-friendly online e-commerce setup to sell products. And that's how Shopify was born.
Shopify is one of the leading platforms for online store setup. More than 1 million users use it to sell their products online. With almost $2.86 billion in revenue generated in 2020. Shopify recently partnered with TikTok, opening the door to over 1 million customers. Shopify services are available in more than 175 countries. So, you can check on your website if it's available in your country or not.
What is WooCommerce?
If you have heard of WordPress. Then you must know about WooCommerce, we guess. But, if you do not know about it, we will teach you everything from scratch.
WooCommerce has WordPress themes and plugins that customers can install on their WordPress dashboards to create an online e-commerce store. It is an open-source e-commerce plugin. So, you can make customizations as required. There are so many e-commerce platforms that do not offer customization features to their customers.
There are more than 3.5 million users across the globe who use WooCommerce free plugins. And almost 99% of US, Canadian, and UK WordPress-based e-commerce companies use it. So, WooCommerce has its kingdom, which cannot be denied.
Apart from that, both WooCommerce and Shopify are better places to start an e-commerce store. Owners can integrate their websites with big e-commerce websites. Like Amazon, eBay, and others to take their business to the next level.
So, to make things clear, we must compare Shopify vs WooCommerce. Now, it is time to start.
Pricing: Shopify vs WooCommerce
Price does matter a lot to everyone at some point. If you are planning a business. It is necessary to know how to utilize money and what is a priority. So, you have to make the right decision at the right time.
Pricing on Shopify
Shopify is a self-hosted website, which means you do not have to worry about the technical portion of the website. And the Shopify technical support team makes things easier for you. Shopify comes with a complete package for an online store. You do not need to look for any hosting provider. And the most suitable part is that it comes with monthly and annual packages. Let's take a look at Shopify's main feature —
If you are looking for a simple Shopify website, you have to pay $29 monthly. It is best for beginners or those who want to start their online store only.
The Shopify package costs $79 per month. This pack contains all the basic things you need to grow your business.
You can get the advanced Shopify version for a $299 monthly premium. If you have a medium-sized business, then go for it.
You can get Shopify lite for just $9. Most importantly, this pack is not better for those looking for a fully functional website. But customers can sell an unlimited number of items online. So, if you need to show an online store, purchase it.
Customers can also purchase Shopify Plus, which starts at $2000 per month on a subscription basis. This pack is for the most discerning customers. It means you are looking to make your business large, then make sure you buy it. They offer plenty of features, and you can do business in multiple currencies. And it can be an international kind of website.
So, you can choose a package as per your requirements.
Pricing for WooCommerce
Are you using a WordPress e-commerce website? Then you can select WooCommerce as your online store maker. WooCommerce is a free plugin that you install from the plugin section shown on the dashboard. So, you can install and activate it. But, you have to purchase a domain name and managed WordPress hosting. You have to pay other charges. Like a theme for about $59, extensions, and plugins. That will cost you something like $25 for each, and you must pay developer fees.
So, these are more charges you must pay to start an online e-commerce store. This price may vary, so please check these prices once again.
You do not need to pay Shopify initially because they provide a 14-day trial to new users. If you find them useful, consistent, and friendly interfaces. Then purchase them otherwise, and look for other possible options. But, the WooCommerce plugin is free. But you must pay for more features.
How Easy to Use?
If someone makes things easier for you, it means a lot. The same formula is used for all works. Someone provides a better feature to make things easier for you. And it will be beneficial.
Only developers and designers do not need to use Shopify websites to sell their products online. In those circumstances, you look to make things easier for you.
Let's read about WooCommerce and Shopify and how they will make things easier for you.
Shopify
Using Shopify will make your life easier. The most vital characteristic of Shopify is that it provides a built-in online store that makes it more effective. It is not mandatory to have coding knowledge to run an online store on Shopify. So, you are free from it.
To create an online store, you must sign up first. And provide some necessary information that they are asking you to fill out. So, you will find Shopify so easy to use.
WooCommerce
To make a WooCommerce website. Users must first install the WordPress content management system. Followed by the WooCommerce plugins and the recommended changes to create an online store. They may appear complex to a beginner. But once followed, they will be simple.
You must keep this line in your mind that you must manage many things from your end. Because WooCommerce does not provide these services. So, make sure you have a developer or designer. On the other hand, you have sufficient knowledge to handle it.
It looks clear that Shopify is leading to WooCommerce regarding how easy it is to use. But that does not mean WooCommerce is not suitable for you. So, stay with us to find out what else is out there.
Inventory Management: Shopify vs WooCommerce
Inventory is one of the fundamental things. Shopify and WooCommerce both have different approaches but offer their best services. Let's read them now.
Shopify
Shopify gives its users complete control over everything. Now, read this one by one —
It allows you to monitor your stock easily.
If you are sort of an item. They will notify you.
Users can use the automated purchase order feature.
If you want to create in-house revenue reports, Shopify is the best place for customers.
Customers have their own style of adding items. If you want to add a single or many products, Shopify can do it.
If you are looking to integrate it with other apps, you can do that easily.
So, Shopify makes your work easy, and people can do other work while saving time.
WooCommerce
WooCommerce is not behind Shopify. It has mind-blowing features to make your life easier. Let's take a look –
A user can modify the characteristics of items or products.
No restrictions on adding or creating products.
You can use third-party apps to make other things smooth.
It is simple to keep stock.
You can set a reminder for the product changes.
Apart from these, WooCommerce and Shopify have several features. That you can use to make your online store tremendous.
Designing
A famous quote is your first impression is your last impression. Designing is one of the most important things when someone talks about a website.
To make your e-commerce website attractive, you must choose the right things, and design is one of them. It makes your business big and brand. The better UI you have, the more interest customers will show in you. So, make sure to know about Shopify vs WooCommerce to choose a better one.
Shopify
Shopify is rich in terms of design and variation. Technically, they are offering more than 100 designs in ready-to-use mode. It means you do not need to do hard work or anything. You can browse the categories and choose from them to make your online store.
Shopify now provides several features, such as Liquid Code, which makes things easier. And allows users to adjust their requirements more quickly. All these themes are under professional view. And they make sure users always enjoy the best services they can provide.
You can use more than 70 templates offered by Shopify, but 9 of those are free to use.
WooCommerce
We are aware of the available option on WordPress, and it is not new to us. And if you are using WooCommerce, its entry theme is known as Storefront. That is a fully responsive and mobile-friendly plugin. If you want to make a better store, you will need to devote more time to WooCommerce. You must have technical skills or a tenant to handle it for you.
If you want to improve your store, you'll need to devote more time to themes. So, it provides variety and lots of features to make your online store better.
You must be aware that everything depends on your creativity. Be innovative to make sure your website looks attractive.
Search Engine Optimization: Shopify vs WooCommerce
When people build an online store. They always want to increase their sales to push their business to the next level.
Everyone welcomes more customers to their website. But it will not take place instantly. Until you run a paid campaign like Google ads, Bing ads, or others.
But SEO has its importance. It is a one-time investment and time-consuming process which offers long-term results.
What are the Points You Should Check for Better SEO?
Be sure your website has active SSL because every website owner. And customer wants a secure payment line.
Your website should create automatic XML sitemaps because if you have more products on the list. It is not easy to update a sitemap per day.
You must have the most reliable and best SEO plugins to make a good website. And well optimized to improve website ranking in search engine results pages of Search Engines.
SEO for WooCommerce
We know that WooCommerce is a WordPress plugin, which means you have a WordPress-powered website. Doing SEO for WordPress websites is a little easier than others. And WooCommerce has those advantages, and it provides an edge over Shopify.
Users can utilize the all-in-one or Yoast SEO plugins to manage titles, descriptions, slugs, and other components. It is like a one-stop solution for the users.
Users can edit the page's body content. And other elements to make their landing page more search engine friendly.
So, there are many options by which customers can make websites more suitable for SEO.
SEO for Shopify
SEO with a Shopify website indeed comes with some restrictions. You can do SEO for the products in either case, but not as freely as WooCommerce allows.
One thing to remember for the users is that Shopify offers all the basics required for SEO for a website. You can choose titles and descriptions for pages, images, and products. But the URL has limitations.
Shopify has several SEO plugins in its app store. And you can use them to make your website suitable for organic promotion.
After seeing both platforms, we consider WooCommerce to be the winner in terms of SEO.
Security – Shopify vs WooCommerce
Security has been a prime concern over the years. And it will remain one of the most fundamental tasks for the future as well. You have to secure your website from hackers, viruses, and malware. We must cross-check both platforms for security purposes. Let's read them one by one here.
WooCommerce
If you choose WooCommerce for your online store setup. Then there are a lot of security checkpoints you can manage and make it powerful to save data and many things.
Time to Look at the Feature Charts that WooCommerce May Present.
Use security plugins to create layers.
Apply the two-factor authentication feature to make it consistent.
You can use your SSL certificate to make your website secure.
Use an extra firewall.
PCI-DSS (payment data security standard) compliance
These are some of the highlighted features that WooCommerce offers to users. To know more in detail, you must visit their official site.
Security Measures for Shopify
You just thought about your products and how to sell them more. Shopify handles all the security aspects of a website. And it means a user needs to list their product and look to drive traffic to the website.
They offer in-built SSL certification to the subscriber to encrypt the data shared between seller and customer. They use PCI level 1 to make the server reliable to accept any payment mode (credit card, debit card, or net banking).
So, these are the security measures of WooCommerce and Shopify. Read them to get a clear visual.
Customer Service
Customer support is necessary to provide the best services and user experience. For example, if your website has any technical faults and you have no idea how to tackle it, In that case, what would you do?
You have two possible options.
First of all, you are technically strong enough to tackle that issue. Or hire someone to fix it.
Second, you contact the customer support team and explain all the issues that occurred. Ask them to guide you to the best possible solution.
WooCommerce Customer Service
Mostly, it depends on the web hosting service provider. If you use GoDaddy or GoDaddy Alternatives for your website. Then ask the following service providers for services.
Bluehost does have some of the best customer support, as does Godaddy. So, you can get in touch with them around the clock. They have a multi-language technical support team to aid their customers. So, you can reach them whenever you want. But if problems take place from the end of the plugin. You have to contact the plugin-related customer service team for better solutions.
WooCommerce does not offer phone, chat, or email support. But many customers use WooCommerce. So, you can join a forum to fix your issues.
Shopify Customer Service
The best part about the Shopify e-commerce platform is that they have one of the best customer support teams to help anytime. So, whenever you want to talk to them to fix your issue, the Shopify technical support team is live to aid you. They provide phone support, chat, and email support.
Most of the time, users get their solutions by reading FAQs and forums. So, you can choose any of them.
Conclusion
In conclusion, Shopify and WooCommerce are two of the most popular ecommerce platforms on the internet. They both have their advantages and disadvantages. This can be advantageous or disadvantageous for your business. If you're looking for an ecommerce platform with a variety of features and options. Shopify is a great option. If you're looking for a simple platform with a wide range of features, WooCommerce is a better choice.
Frequently Asked Questions (FAQs)
Should I use WooCommerce or Shopify for my online e-commerce store setup?
It depends on many things and your budget. If you are looking for a starter kind of site, then Shopify could be a good place for you.

If you want full control of your website and modify some changes to your needs. WooCommerce could be a better place.

So, both platforms have their advantage and disadvantages. You must choose your requirements and future planning.
Does Shopify have better apps?
If you want to use apps with your Shopify website, you can go to the Shopify store and choose whatever app you want to use.
Can I use plugins for my WooCommerce?
Of course, you can. WordPress provides a plethora of plugins to help users reduce their workload. So, you can use any of them to make things stress-free.
Can I use Shopify or WooCommerce without paying any fee?
WooCommerce does not charge because it is free. But you have to pay for other additional services and platforms.

You can use Shopify for a 14-day free trial. But once trials have expired, you have to pay Shopify to use it later.
Can I move my website from Shopify to WooCommerce?
If you want to move your online store from WooCommerce to Shopify and vice versa, then the answer is yes. But you have to take care of many things. So, follow all the steps and ensure you do not miss anything during the migration.
Who has a wide range of apps?
No doubt, WooCommerce has plenty of apps. Shopify, on the other hand, only has about 1,200.
What is the difference between Shopify and WooCommerce?
Shopify is a platform that helps you create an ecommerce store. While WooCommerce is a WordPress plugin that makes it easy to create a digital store. They both have their pros and cons, so which one should you choose for your business?
Related Topics