Are you looking for ways to boost your online presence and reach more potential customers? Then, you've come to the right place. In today's digital world, having a strong online presence is crucial for any business to succeed. And one of the best ways to achieve this is through Google Ads.
But you might be thinking, why Google Ads? Well, it's simple. Google Ads is a powerful advertising platform that helps businesses reach their target audience quickly and effectively. And it's not just us saying that. Many SEO experts swear by the results they've seen from Google Ads.
In this blog post, we'll dive into the world of Google Ads and show you how it can help you maximize your online visibility. We'll cover the basics of Google Ads, and how to create a successful campaign. And tips and tricks from experts for search engine optimization to make the most of your ad spend. So, grab a coffee, and let's get started!
How to Create a Successful Campaign with Google Ads?
Creating a successful Google Ads campaign requires careful planning. And a good understanding of the platform. But don't worry, it's not rocket science!
With a little guidance and some best practices for search engine marketing. You'll be on your way to creating a winning campaign in no time.
Here's a step-by-step guide to help you get started:
Step 1: Establish What Your Goals/Objectives Are
The first thing you need to do to create a successful Google Ads campaign is to define your objectives.
This serves as the basis for your campaign. And will serve as a compass for all of the decisions you make moving ahead. Without clearly defined goals, it is simple to become disoriented. And squander time and resources on techniques that are not productive.
So, what exactly are you hoping to accomplish with this campaign? Do you want to see an increase in the number of people visiting your website? How can you raise people's awareness of your brand? Boost sales?
There is an infinite number of options available; nonetheless. It is essential to pick a target that is particular, measurable, and attainable.
When you are working to define your goals, keep the following in mind:
Your objective should be crystal clear and quite detailed. Saying "I want to raise the traffic to my website and blog" isn't as specific as saying "I want to grow the traffic to my website by 35% in the next three months."
Your aim should be something that can be measured, and you should make sure that it is. This will make it easier for you to track your progress. And evaluate whether or not you are on the right path to accomplishing your objective.
It is important that you set a goal that can be accomplished in a fair length of time. Check if your objective can actually be accomplished by taking the necessary steps.
As soon as you have an idea of what you want to accomplish. You can start planning out your campaign so that it has a distinct purpose and path. You'll be clear on the goals you want to accomplish. As well as the criteria you'll use to evaluate your level of achievement.
For instance, if your goal is to boost the amount of traffic to your website by 30% during the next three months. You will need to think about your intended demographic, and your budget. And the type of your advertisement.
It's possible that you'll also need to set aside some of your funds for retargeting efforts to communicate with customers. And has already done business with your company.
If expanding the number of people who are familiar with your brand is one of your goals. You should think about running a display advertising campaign. That promotes your brand to a sizable number of people.
In addition to ensuring that your advertisement language is clear and to the point. You need also to ensure that it contains an effective call to action.
And if increasing sales is one of your primary goals. you should think about running a shopping ad campaign that highlights your wares. And makes it simple for potential customers to purchase from you.
Retargeting campaigns are a great way to reach customers. And have shown interest in your products by adding them to their shopping carts. but have not yet completed their purchases. You may wish to invest in these ads.
Step 2: Define Your Niche/Target Market and Audience
When developing a successful Google Ads campaign. one of the most important steps is to determine who your target audience is going to be.
Your target audience is the group of individuals you want to communicate with through your advertisements.
It is crucial to have a solid understanding of who your target audience is to effectively craft ads that will resonate with them.
You will need to take into consideration many criteria to determine who your target audience is.
Some of these characteristics include age, gender, location, interests, and others. You may make advertisements that speak directly to your target audience if you know who that audience is. This will enhance the likelihood that they will pay attention to your ads and engage with them.
The following are some pointers that will assist you in determining who your target audience is:
Get to know your clientele: Begin by gaining an understanding of your existing clientele and the things that motivate them. What are their actions, and what are their interests? Why do you think they decided to make the purchase? The gathering of this information will assist you in developing a profile of your ideal client.
Think about demographics: Demographics are qualities. Such as age, gender, location, education, and income. Demographics are something to think about. Think about the different age groups and income levels. And other aspects of people's lives that your product or service is likely to appeal to.
Consider their interests: The things that people are interested in can provide extremely useful information. About how they are likely to react. For instance, if you sell camping and hiking equipment. you could want to direct your marketing efforts toward those. who are interested in participating in various types of outdoor activities.
Utilise Google Analytics: Google Analytics is a potent instrument. that will assist you in better comprehending the individuals that visit your website. You can use it to determine the origin of the traffic going to your website. As well as the interests that your visitors have. Using this information, you'll be able to define your target demographic.
Keep an eye on your competitors: One of the things you should do is keep an eye on your competitors. And see who they're targeting. This can assist you to gain insights into what is working and what is not working. As well as steer you away from typical mistakes.
You will be able to produce advertisements that speak directly to your target audience. Once you have determined who that demographic is.
Employ imagery and language that will strike a chord with them. And check that your advertisements are both pertinent and valuable. You will have a better chance of capturing their attention and participation. As well as achieving the goals you have set for yourself if you accomplish this.
Step 3: Choose Your Keywords
When developing a successful Google Ads campaign. One of the most critical steps is selecting the appropriate keywords. Keywords are the terms or phrases that people enter into search engines when they are seeking something. And your ad will only appear if someone searches for one of your keywords. Keywords may be broken down into two categories: long-tail and short-tail.
You need to select keywords that are pertinent to both your company. And the audience you wish to attract to increase the likelihood. And the proper people will see your advertisement. The following are some guidelines that can assist you in selecting the appropriate keywords:
Know your business: To begin, you need to have a solid grasp of what it is that your company does and the goods or services that it sells. This will provide you with a solid foundation from which to choose your keywords. And also choose the best SEO keywords to optimize your website.
Utilise different keyword research tools: There are many different keyword research tools available. And that you can use to assist you in selecting the appropriate keywords for your content. The Google Keyword Planner is an alternative that is widely used, and it is completely free to make use of.
Think about using long-tail keywords: Long-tail keywords are phrases that are lengthier and more particular. And while they are more difficult to rank for, they are still important to your company. For instance, rather than focusing on the general keyword "shoes". you might want to concentrate on the specific long-tail term "women's running shoes."
Utilise negative keywords: Negative keywords are terms or phrases. And that you do not want your advertisement to show up in search engine results pages. If you sell running shoes, for instance, you might want to include the words "cheap" and "clearance" among your negative keywords. So that your ad does not appear in response to searches for such terms.
After you have selected your keywords. you will be able to utilise them to build ad groups and compose the wording for your advertisements.
Be sure that the content of your advertisement is pertinent to the user's needs and provides value to them.
You will have a better chance of capturing their attention and participation. As well as achieving the goals you have set for yourself if you accomplish this.
Step 4: Setting your Budget
To create a successful Google Ads campaign, one of the primary steps you need to take is to set your budget.
Since Google Ads uses a bidding structure. You will need to determine how much you are ready to spend per day to communicate with the people you are trying to reach.
The following are some guidelines to help you establish a budget for yourself:
To begin, establish a spending plan that is acceptable for your company. You are free to make adjustments depending on the findings at a later time. If your budget is too low, you run the risk of not reaching your target audience. If your budget is too large, however, you run the risk of spending more money than is necessary.
Once your campaign is up and going. It is important to remember to frequently analyse your results and adjust as necessary. If you aren't receiving the results you want, you might need to make some changes to your spending plan. If you aren't getting enough clicks on your ads, for instance, you might need to boost your budget so that you can reach more individuals.
In conclusion, determining your spending limit is an essential stage for developing a good Google Ads campaign.
You will be able to allot an acceptable budget. And will assist you in accomplishing your goals. If you take into consideration important aspects such as your goals, and your target audience. And the data provided by your competitors.
Keep in mind that you should monitor your results on a frequent basis and make adjustments as required.
Step 5: Pick the Ad Format That Best Suits Your Brand
To create a successful campaign with Google Ads. One of the most critical steps is to select the appropriate ad format.
Given the variety of possibilities available. It is essential to select the format that corresponds most closely with the goals. You wish to accomplish and the people you intend to reach.
The following are some of the most common types of advertisements that may be purchased through Google Ads:
Text Ads
These advertisements are uncomplicated and plain. And they show at the top and bottom of the pages that include Google's search results.
A title, two lines of content, and a display URL are included in each one of them.
Text advertising is an excellent choice for companies who want to enhance the number of conversions on their domain name. And attract more visitors to their websites.
Display Ads
On websites and mobile applications that are part of the Google Display Network. Display ads are graphical advertisements that may be seen.
They are available in a range of sizes and may contain still photographs, moving images, and animations.
Display advertisements are an excellent choice for companies that want to raise brand awareness. And communicate with a big number of people.
Shopping Ads
On the results pages of Google searches, shopping adverts are graphical advertisements.
They highlight both the products and the costs. Which makes it much simpler for customers to locate the information they require.
Businesses that sell their wares online and are interested in increasing sales may find success. With the use of shopping advertisements.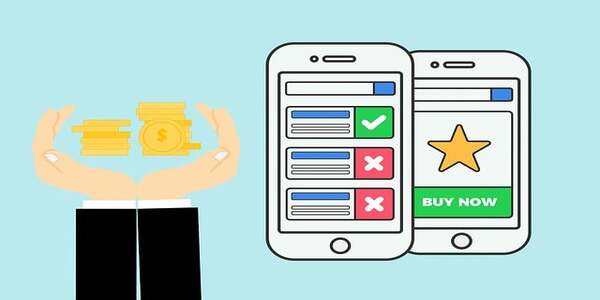 Video Ads
Advertising can be seen on websites like YouTube. And other online video platforms are known as video ads.
They can be as long as one minute long and can include a call to action if the user so chooses. Businesses that wish to reach a big audience. And increase brand awareness may consider running video advertising.
Mobile App Ads
App adverts are advertisements that urge users to download mobile applications. They have the potential to show up on the pages of the search results on Google. As well as on the Google Play Store and other app stores.
App advertisements are a wonderful choice for companies that already have a mobile app. And want to increase the number of downloads.
When deciding on the format of your advertisement. Keep in mind both your goals and your intended audience.
Text advertisements, for instance, can be the best choice for you. if your goals are to boost conversion rates while simultaneously increasing visitors to your website. Display advertisements are one option to consider. If your goals are to increase consumer familiarity with your brand. And communicate with a sizable number of people.
Step 6: Tracking and Reporting
Every Google Ads campaign needs to have a tracking and reporting system in place. You won't be able to know how well your advertisements are performing. And won't be able to make educated judgments about how to optimise your campaign if you aren't tracking them.
You will be able to track and report on your campaign's performance comprehensively thanks to thorough tracking. And reporting capabilities offered by Google Ads.
Installing a tracking code on your website is a prerequisite for establishing tracking in Google Ads.
This code will provide data on clicks and impressions. As well as track conversions and provide tracking information.
Conversion tracking can also be set up to monitor particular actions. Such as the submission of a form, a phone call, or a purchase.
This will show you the percentage of individuals who visit your website. And take the action you want them to do after seeing one of your adverts.
When you've finished configuring tracking. You'll be able to view your performance data in the Google Ads dashboard.
Detailed information on the performance of your advertisement. Including the number of clicks, and impressions. And conversions will be displayed in this section. You may put this information to use to make educated judgments about how to increase the effectiveness of your campaign. As well as how to optimize it.
It is essential to review your tracking data regularly and to modify your campaign by the findings.
For instance, if you notice that your advertisements are not obtaining a sufficient number of impressions. You might want to consider increasing your advertising budget or selecting alternative keywords.
If your conversion rate is low, you might need to make some modifications to your landing page or tweak the way you are targeting your audience.
Step 7: Launch Your Campaign!
Congratulations! You've finished everything that needed to be done to get your Google Ads campaign up and running.
Now is the time to provide form and substance to your campaign.
Getting your campaign up and running is a straightforward process.
Simply clicking the "Launch" button on the Google Ads dashboard is all that is required of you. When your campaign goes live, the people you want to see your advertisements are the ones who will start seeing them.
Bear in mind that getting your campaign out there is only the beginning of the process.
It is essential to maintain a regular monitoring schedule for your performance data. And to make necessary adjustments as they arise. Your performance statistics may indicate. And that you need to make adjustments to your advertising format, budget, or targeting. You will be able to maximise the effectiveness of your campaign and accomplish your goals with this information.
Remembering that having success with Google Ads does not happen overnight is one of the most essential things you can do.
Be patient, as it may take some time before you see the results you're looking for.
If you continue to keep an eye on your performance statistics. And make alterations as necessary. You should start to notice an improvement after some time has passed.
To summarise, beginning your Google Ads campaign is an exciting time for your business. It's the pinnacle of all you've worked so hard for and everything you've done to get ready.
Keep in mind that you need to continue monitoring your performance statistics. And making modifications as necessary if you want to reach your goals, and you'll be well on your way.
Best Practices To Help You Create A Successful Google Ads Campaign
Now, let's get into some best practices that can assist you in developing a campaign that is successful:
Use Relevant Landing Pages
When visitors click on your advertisement. They ought to be directed to a landing page that is pertinent to the advertisement.
People will be more likely to take action as a result of this, which will help to keep their interest level high.
Test and Optimise
Google Ads gives you access to thorough reporting that can assist you in gaining an understanding of how successful your campaign is.
Make decisions based on this data to improve your campaign's performance and optimize it for better outcomes.
Putting the Focus on Quality Score
Google assigns a Quality Score (also known as a Quality Rank) to each of your ads and keywords.
The better your Quality Score, the greater the likelihood that your ad will be displayed in front of the people who are most relevant to it. Your Quality Score can be improved by prioritizing the creation of high-quality advertising and keywords.
Don't Let Your Ad Copy Go Outdated
Maintain the relevance of your advertising material by changing it regularly. And conducting A/B testing with a variety of messages to determine which one connects most strongly with your target demographic.
Your advertisements won't look stale or monotonous if you keep them updated regularly and give them a new look now and then.
Segment Your Campaigns
It is possible to improve the results of your efforts. And make it simpler to monitor their progression. If you divide them into many smaller, more specific groups.
You may, for instance, run distinct marketing campaigns directed toward various types of consumers, products, or geographic areas.
Utilise Remarketing
Remarketing is a strong technique that enables you to target customers. who are already familiar with your company and its products or services.
Choose to display advertisements to customers who have been to your website. or put products in their shopping cart but have not yet completed a transaction with you.
Utilize the A/B Testing Method
Testing with the A/B method enables you to compare two or more versions of your advertisement to see which one is more successful.
This might assist you in optimizing your campaigns for better outcomes. And locating the advertisement that connects most strongly with the demographic you are trying to reach.
To summarise, if you want your Google Ads campaign to be effective. You need to put a lot of thought into preparing it and have a strong understanding of the platform.
You will be well on your way to achieving your goals and making the most of your online presence. If you use the best practices and follow the procedures indicated in this guide!
Related Topics