Before knowing History of Digital Marketing. First know what it is? Digital marketing is a type of marketing on the digital platform and Internet. And this leverages different channels like Search Engines, Websites, Social Media, emails, and mobile applications. And it allows marketers to interact and understand the audience better.
Digital Marketing also shares marketing to advertise to people based on the action and efforts on the internet. And this is less expensive than traditional advertisements.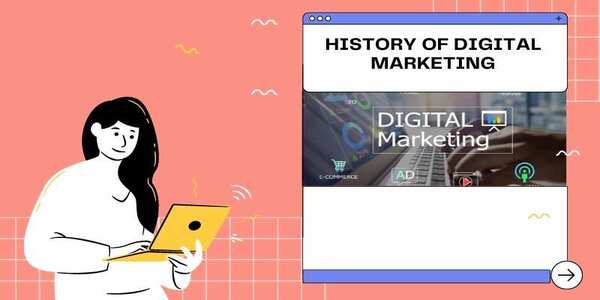 Evolution and History of Digital Marketing from 1990 to 2023
History of Digital marketing started in 1900 when the Archive query forum (Search Engine) started. And through this first digital marketing began in the world.
In 1993 first clickable web ads and banner ads were introduced.
In 1994 digital marketing changed when yahoo launched. And first, e-transaction was introduced.
In 1996 there were many alternative search engines were introduced in the market. For example, Alexa, chatbot, and look smart.
The first social Network was founded in 1997, which name is sixdegree.com. And search engine optimization was introduced in the same year.
1998 was the crucial year for digital marketing because Google and MSN (The Microsoft Network) were introduced.
Google launched its google Adward in 2000. And now this is ruling the internet.
In 2001 mobile marketing and mobile campaign were first started. And that name is universal music.
In 2002 LinkedIn was launched, which is very popular now.
In 2003 WordPress was launched, which later revolutionized the website industry. And the same year, myspace.com was launched.
Gmail and Facebook were launched in 2004. And this year, Google has open to the public.
In 2005 YouTube was launched, which you see is the largest video content provider in the world.
In 2006, 6 billion searches done in 1 month. And then marketers start realizing the strength of digital marketing.
In 2007 Tumblr was started, which is a microblogging platform. And Hulu web streaming platform started. And also UI/UX introduce through iPhone. So that it changes the user experience of the world.
In 2008 china moved ahead of the USA in terms of internet users. And this year, Spotify and Groupon were launched.
Google introduced real-time searching in 2009, which gives results in real-time.
2010 is a critical time for social media like WhatsApp, Instagram, and Google Buzz.
In 2011 google panda was launched, which revolutionized content marketing and content writing. And this year web users number increases than T.V. users.
In 2012, the social media budget increased by 64%. And first time google knowledge graph launch.
In 2013 Yahoo acquired Tumblr. And E-commerce website amazon has spread all over the world.
In 2014 Mobile users increased than P.C. users. This means people prefer mobile devices than P.C. and Laptops.
In 2015 Snapchat launches its Discover feature. And most companies launch their analytics tool.
In 2016, data-driven content marketing was started. And people first analyze the data, and then they create the content.
In 2018 most of the companies focus on Machine Learning and Artificial Intelligence. And started focusing on customer behavior.
Influence marketing has started. Marketers create funnels, and then they sell their products and services from influencing.
In 2019-21 most of the people focus on Voice Searches. For example, you will see content is more optimized for voice searches.
In 2022-23, It has been seen as a new trend for podcast listening, and short videos on Tik Tok, Instagram, and youtube shorts.
Digital Marketing Vs Traditional Marketing
| Digital Marketing | Traditional Marketing |
| --- | --- |
| Reach is maximum | Reach is limited |
| Versatile | Non-Versatile |
| Instant Communication | Delayed Communication |
| Instant real-time results | Lack of real-time results |
| Cost-effective | Expensive |
| Easy to reach the target audience | Difficult to reach the target audience |
| Easy to measure and optimize campaign | Poor campaign measurement |
Comparison between Digital Marketing and Traditional Marketing
There are many types of Digital Marketing
Content is just a piece of information in Text, Visuals, Audio, and Video Formats. And that is use to create and publish for the audience.
Content marketing is a part of digital marketing focused on generating, publishing, and distributing content for the targeted audience. And this is use both online and offline as a strategy to achieve a marketing goal.
First Content Marketing is believe to have been used in 1995 when john derry launched a customer magazine Called the Forrow.
Benefits of content marketing got a significant push in the early 90s when comics like GI Joe created a revolution in toy marketing.
And after the internet revolution, content marketing breaks all the barriers to traditional Marketing. In 2001 Digital Marketers spent on custom curated content that reached 20 billion USD. And then, in 2002 Myspace game was a precursor. And in 2004, Facebook was launched. In 2005 YouTube created a video content explosion.
Early Content Marketing Example
Betty Cracker
Sears
Proctor and Gamble
Weight Watchers
Search Engine Optimization
Search engine optimization (SEO) is the process to index website on Google and other search engines. And improve websites ranking in search engine results pages. And its purpose is to get genuine and organic traffic on websites.
3 Important elements in SEO
The Searcher – The people who search on Search Engines through Keyword and voice search
Website Admin – Its goal is to get audiences through optimizing their website domain name for Search Engines.
Search Engines – Its purpose is to rank a good website according to keywords or voice search for Searchers.
There are two types of SEO
On-page SEO: It is the process of optimizing website elements like Title Tag, Meta Description, content, and internal linking. So that search engines can understand the website better for ranking according to searcher keywords.
Off-page SEO: This is the process of link building to create backlinks. And its goal is to increase domain authority and page authority of websites.
Pay-per-Click
PPC (Pay per Click) is a type of paid marketing in Digital Marketing. And the only interested and relevant audience will click on the ads. So you have to pay only for that ads.
Sometimes SEO practice is not just enough for the keywords you optimize because of tough competition. And then PPC comes in the role of paid Marketing.
PPC involves in Keyword research, scheduling, budgeting, right ads text, landing pages, and many more. And then, you have to track, analyze and evaluate the overall campaign.
Social Media Optimization
Social media optimization is the process of optimizing posts on social media sites to get maximum engagement. This can be done for a specific purpose. For Example, for business, blogs, competition, etc. And it is all about strategically creating, building, and maximizing your social media post to target specific audiences.
Benefits of doing SMO
Get maximum engagement for the post.
Increase organic traffic to websites
Promote your products and services
Free of cost
No limitations for promotions
Target specific audiences
Social Media Marketing
Social media marketing is the next step of social media optimization. And this is mainly used for marketing brands and businesses. And it is also increasing brand awareness, engagement, or website traffic.
Benefits of Social media marketing
A goal like increasing followers, likes, comments, and share, etc.
Give users a good experience
Create Content (video, text, infographic, and blogs) that can go viral
Higher conversion rates
Improved search engine rankings
Target users based on demographic
Email Marketing
Email marketing is the process of sending emails to targeted people to generate leads into sales. And according to research, 60% of sales are done from email marketing.
The Step involves in email marketing
Identify target audiences and create segments
Plan and create campaign
Setup call to action
check audiences responses regularly
Analyze performance (For example, CTR and impression)
Affiliate Marketing
Affiliate marketing involves in selling products and services through marketing to earn commission from affiliate programs.
Types of affiliate marketing Programs
PPC – Pay per click Model
PPL – Pay per Lead
PPS – Pay per sale
Side Wide commission
One time commission
Recurring commissions
Search engine Marketing
Search engine marketing is a part of digital marketing use to rank websites or weblinks in SERPs (Search Engine results pages). And this is mainly done through paying to search engines. And it is mainly done after search engine optimization.
Mobile Marketing
Mobile marketing is a part of digital Marketing mainly focused on reaching audience mobile devices through multi-channels. For example, websites, mobile applications, Emails, and SMS.
Conclusion
Now, we hope you know the History of Digital Marketing and Its types. We have described all the details of how this shifted from traditional marketing to digital marketing.
We have described most of the emerging parts of digital marketing. After the invention of www by Tim Berners Lee and his team. And data can be transferred from networks and devices online.
Then the real craze of digital marketing started. And Now everyone knows how this influences the world.
Related Topics