The festival is approaching, and you will expect to create the best holiday post for your product or service. You cannot forget that holiday time is one of the greatest times to promote some holiday blog post ideas. And that should be linked to your products or services. These blog posts are seasonal (as opposed to the evergreen ones we usually advise shops to write). But with the right keywords. It is a good option to continue bringing customers to your online store throughout future holiday seasons.
Many people have no idea how to start a holiday blog post. Many questions arise:
What are possible ways to increase page views to increase your ad revenue?
What are the possibilities for increasing sales by having a sale to grow your online business and attract specific customers?
What is the best way to increase affiliate conversion rates for affiliate marketing?
These are general questions that come to your mind while doing holiday posts. And you must stick to a call-to-action style and make good use of this traffic. You should make a plan and follow it to make it a catalyst for you. Otherwise, it is a waste of opportunity. As a result, always keep an eye on the time and plan accordingly.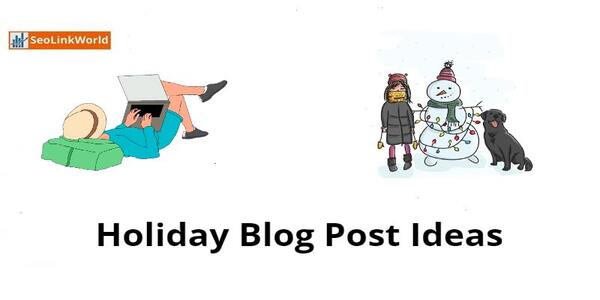 How Can You Get the Most Traffic for Your Blog?
There are many ways to increase organic traffic to your website. We have mentioned some of them below. Have a look –
Do email marketing to wish the customer well. And let them know about your latest deals and offers on your product or business.
Make your post interesting and related to your post. Like, don't cram anything else into your post. Check that it is neat and clean and that it meets customer expectations.
Make customers curious about your product or service. Summarize your post in as few words as possible.
Bonus points if you can add one compelling piece of content to each of these posts to increase email list sign-ups.
Write About Your Product or Service at the End of the Year
Have you ever considered it? Why do you visit other blogs? To learn something? Yes, it is true. When we land on any blog, we try to find something new about it. If you read the same article everywhere, you will get bored for sure. Because the same points and content marketing presented in a different style will be boring for everyone. And you will leave the page instantly. It will affect their bounce rate. So, you have to learn from them, not repeat the same mistakes, and make something unique from them.
It is true, and most of the points are the same, but what can you do differently to attract customers to your blog? It is extremely important, and these are points in which you should take care and invest most of your time.
Gift Guide
Yes, you read it correctly. The gift guide is the oldest, but it is still one of the most important. And effective methods of sending festival greetings. We have seen that many big companies offer special deals or discounts during the festival season. The most interesting part of the story is that customers love to visit them. As a result, their sales are high during that time. So, you can also use this trick to make your holiday blog post ideas come alive.
You can target a special kind of audience for good conversion. For example, 10 Christmas gifts for teenagers, 15 interesting gifts for Thanksgiving,
You can use the social media platform Pinterest and pin your collage images with bundles of products or services. It will help you get more direct visitors from Pinterest.
Using affiliate links can make you money from affiliate marketing sites. You must use it smartly so that people do not get frustrated and feel weird while reading your post. So, make it simple and user-friendly.
Use catchy lines that have a real impact and make your most impressive.
Make It Creative: Make It Sensible
We've all grown tired of seeing the same image and visual over and over. As viewers, we expect to see something creative by publishers in those circumstances. So, how can a publisher make a post creative and engaging?
There are vector images that can be beneficial. Many image websites, like Shutterstock, Adobe, and Pixabay. And others, have bundles of images in different categories.
Publishers can also try roundups; they look sensible and creative. It looks like two-way talk, and viewers can relate to it. As a content hub, this post will serve as a roundup.
A Special Post on Your Niche
Are you a travel blogger? You can elaborate on vacations and tease them about getting the best deal on their next trip with you.
If you are a food blogger, you can suggest a food recipe that you found very useful for yourself. Make some minor changes to your content writing to make it more relevant for search engine optimization. It will enhance the holiday-themed appeal and reliability of your content.
Talk about your goal for next year
Imagine you are in a seminar, and someone on stage is telling you about their plans and where they want to be. You will listen to them with interest. It's human nature to listen to others' plans. We all love to listen and make our New Year's resolutions.
It is one of the best methods used in rehab centers and gyms. They attract people and do various things to find their bodies in first class after a while. People do purchase their memberships and take them seriously. You can also follow this trick to attract more customers. If not this year, they will surely get in touch with you about your product or service next year.
So write a post and let your viewers understand what you hope to accomplish. As a result, both you and your readers will be greatly inspired to follow through on your goals.
Frequently Asked Questions Regarding the Holiday Blog Post Ideas:
What is the best way to create engaging posts for my website?
There are several ways to make attractive and catchy posts for your website and blog. You can sum up your business, make a festival gift guide, tell about your next goal, and many others. These are proven ways to increase visitors to your post.
When should I publish my holiday blog post ideas to get maximum reach?
You should publish your holiday blog post ideas early. If you are posting it around festival time. It cannot get proper engagement and customer reach due to a lack of time. So, post it earlier and promote it in the right way.
Related Topics