Think like a visitor. If you visit any website, are looking for a particular topic or product, what will you do? Confidently, you will take the help of the search bar. It is available on the website and blog. Imagine if they have no search bar, then switch to another website or take time to go through page by page. It sounds like old things have changed dramatically. Make sure you have a search Engine on your website with the help of wordpress search plugins.
So you can navigate it easily. Almost every developer uses WordPress advanced search plugins on their website, and e-commerce websites use it very well to start blogging on WordPress.
Now, We Will Read to These Best WordPress Search Engine Plugins.
Stick with us, and we will go through all the possible aspects and check which one is better for you and all. So let's start this –
If you are looking for premium or free WordPress search plugins, then SearchWP will be on the list for sure. It is feature-rich and sorts most issues. It ticks all the boxes like fast and accurate, e designs are amazing, and many things. Its indexing process is fantastic. To get a sense of its capabilities. This plugin can index text or PDF documents stored in your website's media section, complete your post content, short-codes, product listings, categories, and tags (if available to index), and post metadata.
Users can get results in the WordPress search bar or search engine. And the best part of this is that you can list any feature results. Also, to make the best use of the plugin, you can tune it with specific features you would like to use.
What are the features of the searchWP?
SearchWP is a WordPress custom search plugin come with plenty of features. You can read them here –
It allows users to monitor a unique visitor's view to serve them better.
The SearchWP table is customer-friendly, and you can set its algorithm to your needs.
Showing better search results by using keyword stemming.
A user can easily find the searched products with the help of SearchWP.
It provides an automatic integration facility with native WP search.
Theme integration feature that is automatic
If other plugins miss any search results, SearchWP loves to show them.
A dedicated customer support team is available round the clock to help you.
It can be use as a WooCommerce search plugin.
How much will it cost you?
It comes with three options. Check it out here.
Plan Standard –
Generally, it comes for $199, but you can save almost $100 on it. It applies to one website only. All features and extensions are available to use, and customers get one year of support from the official team.
The Pro Pack –
If you are purchasing this pack. Then you can use it for five websites, and features like Custom Results Order, Related Content, Woo-Commerce Integration, Metrics, Redirects, and standard plan features are included with this plugin. It will cost you around $399, but you can save $200 on it.
Agency Pack –
It is best for agencies and big businesses. A user can access all the features and get a license for unlimited websites. It means no restrictions on it. It will cost you $699, but a $300 user can save.
No doubt, AJAX Search Pro is one of the most reliable WordPress search plugins you have ever seen. There are so many good things included with it, and the best part of the AJAX search Pro is that it works on JavaScript and XML technology to show the results. There is no need to refresh the page; the plugin will take care of everything.
Your result page will be responsive and easy to navigate for mobile users. As we know, the number of consumers is shifting to mobile from laptops or desktops. So, it is necessary to make the result page mobile-friendly.
Let's see those merits of the AJAX search pro.
You can see real-time search results with thumbnails (check if all things are set up correctly).
The search result pages are responsive.
The design of the pages is clear and beautiful.
You can integrate it into your online woo-commerce store.
AJAX search pro is compatible with Buddy Press.
You can use it with many themes, WordPress page builders with no issues.
A user can highlight features and results.
The option to filter your results is available.
It indexes every post and tag.
Multiple support options.
Its WordPress search widget results are perfectly accurate.
Infinite customization options for users.
More than 50 built-in themes are ready to use.
Performance tracker.
The customer support team is available all the time to help you.
How much will it cost you?
AJAX Search Pro comes in premium versions, and you can purchase it as per your requirements.
Regular License –
They offer lifetime updates and a one-time payment only. The regular license is used for one website only, and on-demand services are available on it (kindly contact the customer service team to know more about it). You have to pay $36 to purchase it.
Another premium version, known as the Extended License, is offered by them. To learn more about it, customers should visit their official site.
If you are a regular WordPress user, you have an idea about jetpack plugins. It has many WordPress plugins for different uses; jetpack search is one of them. And It has achieved the five million installation mark on wordpress.org. It appears that people enjoy using it to search for things. If you buy the jetpack search plugin, you can unlock more than 200 premium WordPress themes in ready-to-use mode.
Jetpack replaces your ordinary WordPress results pages with its consistently high-quality results. If you have a good website and want to make it perfect, then the functionality of the Jetpack search is well suited for you. It does not matter if your website has thousands of pages because Jetpack is designed to index them all with difficulty. It offers a user-friendly design to customers to make their search queries more interesting.
Its support team always works to suggest the best results to the visitors at any time. Make sure your website does not slow down.
It is time to read Jetpack Search iconic features.
It has an algorithm system. By which it provides the most related results to the customers.
Like other search engines, Jetpack does not re-load pages. It has instant search and filter features.
This is compatible with many themes on desktop, tablet, and mobile devices.
It comes in more than 25 languages and is supportable for all.
The auto-fill and correct option means that if you enter an incomplete or incorrect spelling, Jetpack search will correct it.
It is filtered and faceted searches (by post types, tags, custom taxonomies, categories, and dates).
Real-time indexing features are available.
Provide the best user interface for the customer and easy navigation.
How much will it cost you?
It will cost you around $29 per month. So, cross-check all the features and make sure they are useful to your website. In the case of a refund, they provide seven days to cancel your subscription at any time.
Relevanssi may be the best search plugin for your site, and you can replace WordPress's default search engine with it. By using Relevanssi, You can improve the look of your results page and the efficiency of your search engine. Customers should be aware that if their server has limited space, Relevanssi will cause a problem. So, before using it, make sure you have enough space to run it because it needs space to run database space.
You can use its free version because it has a premium version with eye-catching features. Later in this section, we will read about the merits of the Relevanssi WordPress search plugin free. Relevanssi will index all of the information and listings available on the website. So, you can trust it.
Now, let's read about those famous features of relevance that make them one of the best free WordPress search plugin of all time.
The results provided by Relevanssi are based on relevancy.
It is multisite-friendly.
It has bbPress and Gutenberg support.
A user can highlight search terms when they click on the link from the document.
You can search for phrases with quotes.
It has auto-complete features, which means if you have entered half a word, it will consider it.
Relevanssi index custom post types and taxonomies.
Shortcodes indexed
You can adjust the title, comments, and tags.
If you do not want to index post titles and content, disable it by filter hook.
User profiles and searches are indexed.
Export and import features
Use the advanced filter option to make the results relevant and useful.
It provides a custom field to edit.
How much will it cost you?
Relevanssi is one of the most powerful Site search plugin users can use to make their search engine results prominent. They have various features that are both lucrative and effective.
It comes in two price categories.
Annual Subscription
For an annual subscription, you have to pay $99 per year. If you want to continue Relvenassi's services. Otherwise, they will discontinue it. They will provide a one-year support and update facility with it.
One-time payment –
For this subscription, the customer needs to pay $349 once. And Relevanssi will keep your service for life. They will offer your life support and an upgrade.
Ivory search plugins are easy to use and produce the best search result pages. Users can make a completely new custom form to make their unique paths. Remember, if you are a technical person, you can only make it. Otherwise, take the help of those.
You will find the ivory search one of the most useful because it gives control to the user to decide what they want to show or what they want to exclude from their search results. And users can do searches in their language because it is supported for all languages. With its premium version. You can search for its author posts and many other features.
We have mentioned some of them below. Please take a look at those.
You can use AJAX search to perform a search query.
Users have the option to create plenty of search forms.
Use the Customizer to make your search more effective.
Shortcode index of contents
You can search for attachments (like images and files).
It provides the option to access every form separately.
It supports multi-language features.
Users have the right to exclude any results from search results. It means controlling your search results.
You can find search forms everywhere on the website.
It provides a search-specific content option.
Keyword stemming option.
Fuzzy matching
A dedicated customer support team is available at all times to assist you.
You can use it for a woo-commerce online store.
It provides search analytics to monitor searches and track them.
Get the fastest results with its inverted index-based search algorithm system.
It is one of the most widely used WordPress e-commerce search plugins. You can imagine its appeal that it has over one million downloads and a nearly 5-star user rating. WPSOLR is a superb search plugin for professionals, as evidenced here. The most interesting thing about this plugin is that you can do cross-domain search functionally. So, you can walk around numerous websites.
Users can enjoy many add-on services, and it is easy to integrate because WPSOLR is compatible with most themes and third-party apps.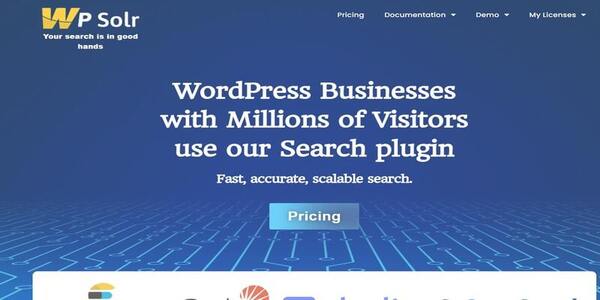 It has many features, which we will read about below.
This has a self-hosted search facility, which makes it powerful.
It has a multi-domain cross-search facility.
Users can enhance it to show results as they want.
No restriction on scrolling.
To speed things up, you can integrate it with YITH Ajax Search.
You can use Elasticsearch and the Apache Solr facility to create real-time integration.
Custom fields
Dynamic Filters
Friendly to Elastic search
It has a geo-tagging option.
It is compatible with many WordPress themes.
One of the best e-commerce websites.
Custom relevancy
Data privacy
It is Friendly to Search Engine Optimization
How much will it cost you?
WPSOLR Pro is a mind-blowing premium plugin, and you can happily purchase it. You need to pay €199 per year.
Conclusion
In conclusion, WordPress search plugins are a great way to improve your WordPress site's searchability. Many of the plugins are available for free, and many offer updates and support. You can easily add search functionality to your WordPress site with the right plugin.
Frequently Asked Questions (FAQs)
What Should You Look For When Purchasing a Search Engine Plugin?
There are some points. You should check before using any WordPress search plugin on your website. Now, it is time to check them one-on-one.
Make sure the search bar is visible.
It is one of the fundamental things to choose the best search engine plugins for your WordPress website. Imagine your search bar is not visible, your icon is properly seeable or not. Or somehow it is damaged and all. There is one possible cause. If you have used it in some section of the website. It might be possible that the user is unable to access it. Or it is hard to get there. It will make customers frustrated. So, make sure it is clear.
It provides precise and timely results.
We hope you understand without much explanation, but let us give you an example –

Imagine you are visiting an e-commerce website, and you are looking for a printed round T-shirt. You put your requirements in the search bar, and it takes more than expected time to show collar T-shirts. What will you do? We are sure that users will switch to another site to purchase the printed round t-shirt. So, you have to check it twice.
Check that the filtering and sorting are working appropriately –
You may have seen this feature used wildly on the e-commerce site. It helps customers get what they want. They can set price ranges, specific brands, colors, new arrivals, the best products, so many features. So, filtering and sorting are the best features. It must be in the search engine plugins.
Examine Search Logs to learn about the needs of your customers –
Search logs are essential for better understanding your visitors and providing them with the best search results. You can make your website friendlier to your customers with this method. So, do make it possible for your site.
It must be appealing –
Every user loves to see an eye-catching user interface. So, ensure the design of the search result page is eye-catching and effective. You can use AJAX to show live results in real-time. It will be better if you can edit some sections of the WordPress search plugin (if necessary).
How much did it cost you?
Money does matter. If a search plugin is expensive and the design is good. However, it does not provide the best and most accurate results for users. In that case, it is not worthwhile. On the other hand, if a plugin provides correct and necessary features in less amount, which one do you like to use?
Related Topics