Comparing Google vs DuckDuckGo is not very tough, especially when both are well known. Google is the most popular, and it has the most searches. So this is the very natural choice. DuckDuckGo is the lesser known, but it is starting to turn into a rival of Google.
DuckDuckGo or DDG: Always, you don't have to type DuckDuckGo.com instead, you can type ddg.gg and duck.com. It appears as a good search engine platform that respects privacy. And it is dominating the market by integrating its platform to add websites. And DuckDuckGo always try to push itself to become more popular.
Google – In the race of the most popular search engine. And this try to end all other competitors by offering better services. Such as better user experience, better advertisements, and better ads business. The revenue is shared between Google and the publisher.
If you compare Google vs DuckDuckGo. Then both uses some strategies to store information from crawlers. Google uses a cookie to track the sites of the users. At the same time, the DuckDuckGo system is through the keyboard to show the websites.
Google has near about 92% of users, while DuckDuckGo has 0.80% in the global market. These are based on different principles and have a goal for collecting information. Google tries to gather as much helpful information as possible. And make its ads as targeted as possible. And collect user information without interfering with privacy.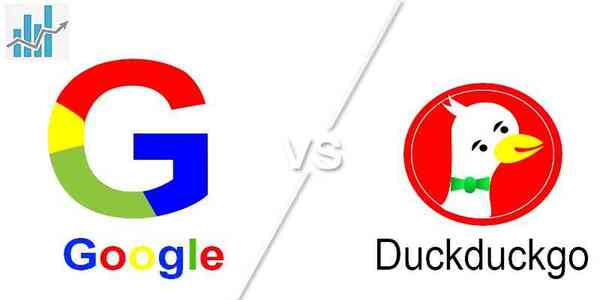 Difference between Google and DuckDuckGo
Google
Google tracks you – If you are using google. Then it tracks you because it has a good ecosystem that can trap you easily. It has many other subsidiaries which share information from google maps, YouTube, Gmail, etc.

Google has a tool like Google analytics, search console and google tag manager. These all share the data of users to Google. And if you are more interested, then you can go to its privacy policy page and disclaimer page.
Collect private user information – This collects private user information like location, search history, and age. According to Google, the purpose behind this is to provide a better user experience, best results, and improve its services. And this also helps to serve the best ads for its user and increase revenue.
Google trackers lurk everywhere – Google always tries to collect information through its crawlers or different applications and websites. Google is the most used search engine in the world. And it has almost the biggest ecosystem on the internet.
Get biased results – Google shows biased results to its users. For example, if you search keywords at different times and locations. Then it will show different results to its users. It always collects user's data to provide the best results it can.
Trap in an ecosystem – Google has more subsidiaries like Gmail, Google chrome, YouTube, etc. So through these, it traps users to show better ads.
Do not control over personal data: Google users do not have control over personal data. And according to the Terms & Condition of google, collect data to do R&D and share with the third party.
DuckDuckGo
DuckDuckGo doesn't track you – DuckDuckGo is a privacy oriented alternative search engine. And it doesn't track its user through any medium. It only shows results based on keywords and country. And this is the search engine that respects privacy.
Do not collect user information: DuckDuckGo doesn't collect its user information. For example, location, search history, name and address etc. And according to the DDG privacy policy page. And it clearly stated that it respects privacy.
Block all trackers outside – DDG always blocks all trackers from other sources or third parties. To maintain its user privacy, it doesn't allow trackers on its platform.
Unbiased outputs – DuckDuckGo shows some results for all its users based on keywords. This offer options to enable and disable country mode name. So, whenever you search keywords on DDG. It always gives unbiased outputs.
Minimal advertisements – DuckDuckGo shows advertisements based on keywords in SERPs. For example, just compare Google vs DuckDuckGo. Google advertisements platforms like AdSense. And it shows and sells ads to third party websites. And DDG has no such platform as this to shows minimum advertisements.
Respect privacy: DuckDuckGo clearly stated that it respects user privacy. DDG does not collect any type of its user personal information.
Conclusion
In conclusion, comparing Google vs. DuckDuckGo is an exciting battle for search engines. DuckDuckGo has the decisive advantage over Google over the privacy model.
The two search engines almost have a popularity. Google is the market leader and everyone want to index website on Google. But DuckDuckGo is also famous for respecting its user privacy. Here we will compare both based on how these gathered data and various strategies.
Related Topics