The shopping search engine or eCommerce site search solution is basically the built-in or integrated search engine into the online store. As it is an app-based search engine, the work is simple, and it has to identify the keyword searched. And show the most relevant result from the store only.
Thus, we can say it works mainly only for that store page in which it is integrated. You will also find comparison shopping engines. Using these search engines, you can compare various factors.
Whenever you search on these shopping search engines. the result will only be the services or products offered by that particular online merchant. They are more specific as compared to web pages. But, the challenges are somewhat similar.
The Shopping search engine or product search engine is expected to show more relevant results. Human Relevance System (HRS) is a tool that tells the quality of a search engine. It always takes effort and time to optimize search results. And show what matches the user's interest best.
Some best Ecommerce/Shopping Search Practices:
The fundamental difference between eCommerce search engines. While eCommerce search does structured attributes where filtering and sorting are used effectively. Other web search engines are they search content, text, and other formats of data. So, we can use some best shopping search engine optimization techniques. And that will help to improve the user experience. 
Place the search box easy to spot.
The size of the search box needs to be big enough for typical queries.
Give options for personalization using advanced machine learning.
Prepared for a strong uninterrupted user journey.
Natural language processing should be used to fetch better results.
Options for filtering and sorting to specific results.
Importance of Shopping Search Engine
Shopping search is more specific, and it involves various things. Such as autocomplete, related search suggestions, and filtering. All these small combined make the search easy for users. Now, the searches done by the users can be used to collect data and get detailed insights into your customers.
This data is quite important to improve the search suggestions and filters for your customers. It saves a lot of time and helps in finding the most suitable result.
We divided visitors in two types: Browser and Searcher.
The Browser: This person is between the buying process. This person knows about your product. And midway, the product is somewhat like what they are looking for. These are the customers that can be converted easily.
This is your target audience and needs to be targeted in possible ways. Here, the automatic recommendations and prefilling are in the search bar. And that can help convert the browser into your customer.
The searcher: The person who is in the last process of buying the product. They know your product and understand the need for your product in their life. They understand what they want from your catalog.
Although the product they need is almost like your product, it may vary by product name, color, and size. From here, they need a good funnel to target. Which will land them on your e-commerce search engine to pull up relevant products.
Interesting Facts for Shopping Search Engine
Users who are searching for similar products on the web are more likely to buy your product. The stats say that these users are 7 to 10 times more likely to buy your products than normal users.
As per the Prefix box, on-site search users are 16 times more likely to convert in some particular categories.
This is the audience that gives 40% to 80% of the online revenue.
If your search engine is prepared to process language. It can help show relevant results that will help in converting customers.
Top Shopping Search Engines
Over 5 billion web searches happen on Google every single year. Most of the retail shopping is done through the Google shopping search engine. Google is one of the most used shopping platforms. And it drives the highest traffic and conversion rate. It is the platform that consistently generates more clicks and sales for retailers.
Shopzilla is one of the highest-paid shopping sites. It is the third-highest revenue producer among all shopping engines. And that combines to show similar products from different retailers online.
It is also one of the biggest platforms used for online buying products. It is also part of the eBay family. And it is one of the best platforms that help retailers to put their products on the front. And it is available in countries like France, Germany, the U.K., and Italy.
Amazon is used for showing Amazon product ads. So, these ads are commonly found on the PDP page. It directly benefits Amazon's Marketplace traffic and brand recognition. Yet, unlike the Amazon Marketplace. Amazon Product Ads direct users to external web stores. And for transactions adding retargeting and branding value for retailers.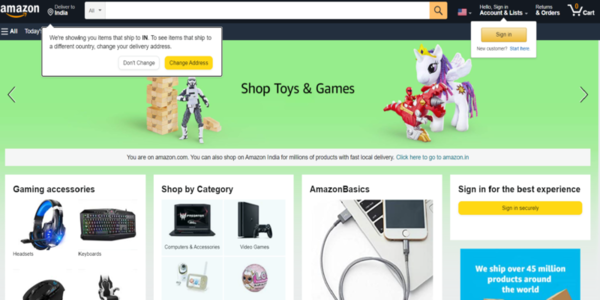 Facebook Marketplace: Facebook is a well-known social media platform quite popular for connecting people. It provides various services as well, including advertisements. Using Facebook ads, merchants can target the audience of their niche. And can convert users into customers.
Merchants can also target an audience based on their location, age, and interests. One of the best parts of Facebook ads is retargeting campaigns to reach your audience again. With Facebook ads, you can also collect data and insights. And other details of your customers that will help to improve your service.
Become is one of the most significant comparisons in eCommerce search engine spaces. This online shopping engine aggregates research to offer buying guides and forums to customers. The platform helps customers find and compare prices, read, and write product reviews.
It allows you to find the best product online. 'Become' shopping search engine beat out both Nextag and the eBay Commerce Network.
Optimization
Optimization is quite important, and the search engine needs to work on machine learning. This method helps to improve ranking in search engine results pages. And learning the behavior of customers. Machine learning will help in finding the most relevant product for the user.
Adding alternative solutions for complex problems can help in improving customers' experience. Mobile searches are always more, so you need to design your search box. and search engine in such a way that it can improve customers' experience.
Natural Language Processing (NLP) is used to improve the search results of the store. Several big companies use NLP to improve their searches. It is quite difficult to interpret natural language.
Conclusion
You want the shopping search engine websites at your fingertips for shopping online. These websites make it easy to locate products for almost everything. Whether it is furniture, clothes, electronics, or anything else. It is all available on popular shopping search engine websites.
As an online e-business owner, you will want to make the most of these resources. And get your items listed on them as often as possible.
Related Topics